SERVING A VALUABLE NEED
In a world where improved convenience & efficiency is demanded The MICRO II plus [model: cm290plus] is a unique product which serves a valuable need that has been a problem to microwave users for decades.


How do you use the space in your microwave oven effectively so that more than one meal can be heated at once easily, safely & without mess?
Although the Microwave oven has long been established as an essential kitchen device the age-old headache of having to wait to cook your second meal whilst the first is being heated has always been a problem, but now there is a unique solution!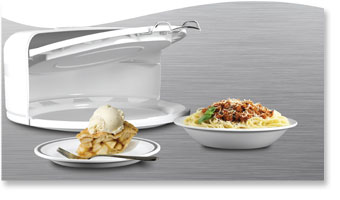 Designed for everyday use -Zennivå2's patented MICRO II Plus allows you to cook 2 plated meals at once, easily & safely, at the same time as keeping the inside of your Microwave oven clean.
The unique MICRO II plus is essentially a double level, fully enclosed, microwave Insert -that allows you to further enhance your microwave cooking effectively.
Constructed so that it easily fits inside most microwave ovens old & new, The MICRO II Plus sits on your microwave's turn-table allowing it to revolve as the plated food inside cooks.