Please select the following support item:
LOADING YOUR MICRO II Plus:
In order to load the MICRO II Plus a simple procedure is followed:
Once placed inside of your microwave oven The MICRO II Plus is positioned so that the front cover is removed whilst the rest of the product remains inside.
With the front cover removed it is then possible to lift both the hinged support leg & the shelf assembly easily -allowing excellent access into the bottom level.
Once the first plated meal has been loaded into the bottom level, then both the shelf assembly & the leg support can be lowered -ensuring that the leg support is pushed in against the base section stop.
It is then possible to load the second plated meal onto the shelf assembly before you place the front cover back on. Note: The front cover is easily located into a grove that runs around the edge of the base section.
The 2 plated meals are then ready to cook.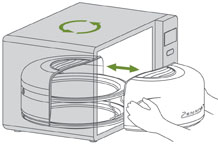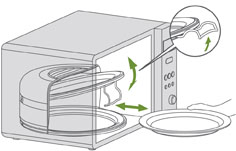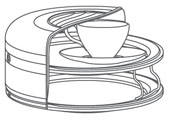 RETAINS HEAT:
Once the cooking process has been completed most of the generated heat is still retained within the MICRO II Plus, although some is lost through the top vents & through the joins of the covers so that condensation is kept to a minimum & so that there can be no pressure build-ups.
REMOVAL OF THE PLATED MEALS:
Removal of the plated meals is achieved by spining the MICRO II Plus on the glass plate/turn-table of your microwave so that access to the front cover is obtained & then the front cover can be removed with the product still inside your microwave. Note; The MICRO II Plus is not designed to be lifted whilst loaded.
Removal of the plated meals is achieved be a reversal of the procedure described above, then the leg support & the elivated shelf assembly is lowered before the front cover is placed back onto the empty unit ready for the next meal.
CLEANING: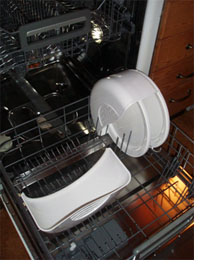 Cleaning is simple; the MICRO II Plus can either be hand washed or can be loaded into a dishwasher with it's front cover removed.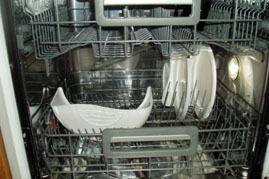 OTHER EVERYDAY USES:
It is also possible to cook single meals also by loading the plated meal either into the top level (on to the shelf assembly), or by loading it into the bottom section. The cooking results are similar in either case.
As well as this it is also possible to load cups, large & small, as well as jugs & pre-packed ready-made meals. In some cases the shelf assemble can be elevated & the front cover can be left off for larger mugs or cups.
Note: The MICRO II Plus is a certified product which is constructed using quality, durable materials suitable for it's correct application (see packaging for details).